Most organisations are familiar with the terms 'Sustainability', 'Impact' and 'Corporate Social Responsibility'. However, successful implementation of these terms in business practices can be a challenge. Important and complex questions arise when making the step towards more sustainable business practices, such as 'How do I make sustainability part of my strategy?', 'How do I get a grip on impact and (climate-related) risks and opportunities?' and 'How do I report clearly on sustainability performances and social value creation to various stakeholders?'
There is a growing demand from investors, customers, regulators and other stakeholders for businesses to have a sustainability strategy and impact reporting mechanism in place. This demand creates room for new possibilities. However, the many different standards, frameworks and tools to report on impact and sustainability can make the policy landscape very complex. At Grant Thornton, we aim to help you determine the right path towards sustainability, suiting your organisation and goals.
Experts in impact management
Our Sustainability & Impact Management specialists assist organisations in setting sustainability goals and impact ambitions and help formulating clear strategies and roadmaps. We assist in making your results measurable and ready-to-report and ultimately aim to improve your financial and non-financial value. We possess knowledge on various important aspects, such as the impact management cycle, relevant frameworks, methods and standards. Our extensive experience allows us to clearly translate theory into practice, fitting the stage of your organisation and ambitions.
Global impact
Internationally, we are part of the Sustainability Centre of Excellence of Grant Thornton. This is a 'Community of Practice' in which all sustainability and impact experts from the Grant Thornton network are united. By learning from each other we aim to raise our service to an even higher level. Our international network allows us to serve you worldwide.
What to expect from us?
An appropriate approach

GRI, GHG protocol, CO2 measurement, integrated reporting, TCFD, SROI, Sustainable Development Goals: the landscape of frameworks, standards and methods for reporting on impact and sustainability is becoming increasingly complex. We help you choose the method that suits your organisation, stakeholders and goals best.

Data solutions

Did you already set sustainable goals? We assist you with efficient data solutions to monitor, report and visualise progress and results in relevant dashboards.

Sustainable DNA

We believe in a holistic approach in which awareness, culture and stakeholder involvement are just as important as data and measurement to achieve sustainable success.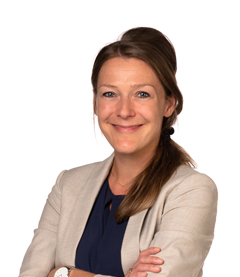 Partner sustainability & impact
Emma Verheijke leads the sustainability practice of Grant Thornton Netherlands. Emma has broad expertise in both theory and practice around social impact and sustainability, supporting a wide portfolio of national and international clients (companies - from multinationals to SMEs - , investors, government and non-profit) with ESG, impact and sustainability strategy, measurement and reporting.
Learn more about Emma Verheijke